Tiny4412 is a high-performance quad-core Cortex-A9 core plate from FriendlyARM. It uses a Samsung Exynos4412 as the main processor, speed up to 1.5GHz. Build in Mali-400 MP integrated high performance graphics engine, with support for 3D graphics and smooth running, and large 1080P of HD video can be played. Flag ship smart phone Samsung Galaxy S3 that is using this CPU design.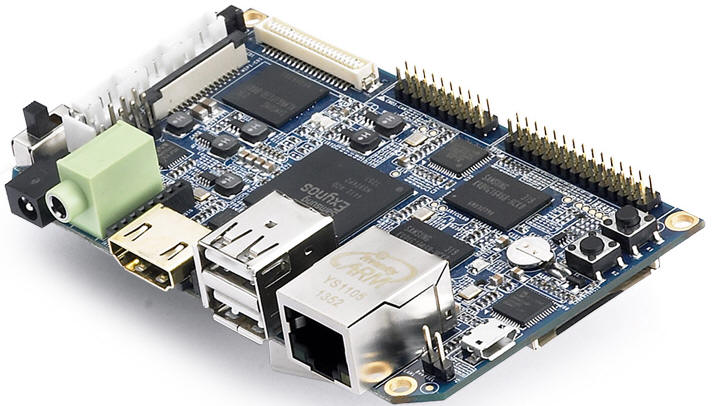 Tiny4412 CPU board with 2.0mm dual pin spacing (P1, P2, P3, P4), size 74x55mm, leads to a total 208Pin PIN. Where P1 and P2 PIN for standard welding, which already includes most of the commonly used features; P3 and P4 welding easier extension development. Tiny4412 implements the master chip core part of the most difficult, so it is ideal for business users for fast product design, project development, core Board standard 1GB and 4GB high performance DDR2 memory eMMC Flash memory (optional 8/16/32GB).
Tiny4412SDK is the reference designs backplane, it comes with a variety of common standard interfaces such as HDMI output, USB Host, SD card, DB9 serial port, RJ-45 port, audio input/output port, there are also resources testing devices such as EEPROM, buzzer, keys, GPIO, SDIO, and so on, so that users complete assessment and use of core Board. Because Exynos4412 positioning main is-oriented high-end handheld mobile equipment, to do low power, most IO mouth used of is 1.8V voltage, this on led to cannot applies Yu some common of traditional IO module, therefore we in backplane Shang on almost all IO are do has level conversion (to 3.3V), to Yu old user still to compatible using, this can greatly save products project development of time.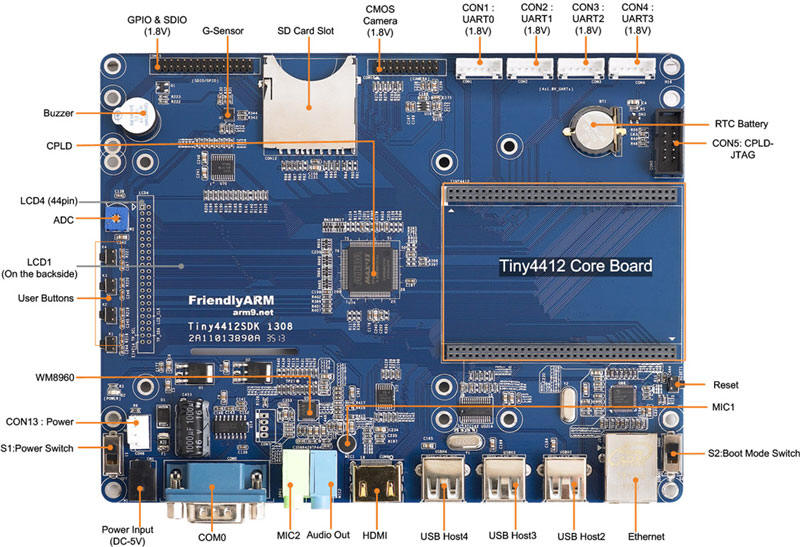 -Main Features-
CPU

Samsung Exynos, based on Quad Cortex A9, 1.5 GHz frequency
Mali-400 MP high-performance graphics engine
2 D/3 D graphics acceleration
Support MAX 1080 p/i @ 30 FPS hardware decoding video smooth playback, format for MPEG4, h. 263, h. 264, etc

DDR3 RAM:
size: 1GB, 32bit
Superboot4412
U-boot for TINY4412
Android 4.2(offer Linux-3.5.0 core source code; Offer Android 4.2 BSP)
Linux + Qtopia2 + QtE-4.8.5
Ubuntu 1204
-Specification-
-Tiny4412 Stamp/Core Module:
4 x User Leds(Green)
Supply Voltage: 2V~6V
2 x 70 Pin 2.0mm space DIP connector
2 x 34 Pin 2.0mm space DIP connector
Mechanical: 8 layers high density immersion gold PCB
Dimension: 74 x 55 x 10mm