NFC Contactless Smart Cards reader writer SDK
:: NFC 13.56 MHz Contactless RFID Reader Writer developed Cards ::

We are doing NFC Tag, RFID NFC Tag, Advanced NFC Tag, NFC Tag Suppliers and NFC Tag Manufacturers

A low-cost, and ultra-low power, NFC reader/writer module. A cutting edge ARM Cortex microcontroller and latest HF transceiver technology coupled with the reader's intelligent operating system make this module the most versatile HF RFID module at the bottom tier price point.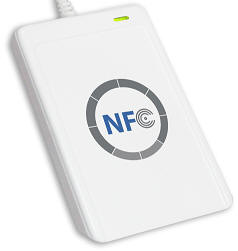 Buy Now
NFC Card reader writer
Price INR 3800.00
Tax & shipping extra

:: Introduction
We provide NFC Contactless Smartcard development services and solutions.
The NFC Reader is a PC-linked contactless smart card reader/writer developed based on the 13.56 MHz Contactless (RFID) Technology. Compliant with the ISO/IEC18092 standard for Near Field Communication (NFC), it supports not only ISO 14443 A and B cards but also all four types of NFC tags.

NFC Reader is compliant with both CCID and PC/SC. Thus, it is a plug-and-play USB device allowing interoperability with different devices and applications. With an access speed of up to 424 kbps and a full USB speed of up to 12 Mbps, NFC Reader can also read and write more quickly and efficiently. The proximity operating distance of NFC Reader is up to 5 cm, depending on the type of contactless tag in use.

In order to increase the security level, NFC Reader can be integrated with an ISO 7816-3 SAM slot. Furthermore, the NFC Reader is available in module form, permitting easy integration into bigger machines, such as POS terminals, physical access systems and vending machines.

The NFC Reader is ideal for both secure personal identity verification and online micro-payment transactions. Other applications of the NFC Reader include access control, e-payment, e-ticketing for events and mass transit, toll road fare collection and network authentication

Features
CCID-compliant
PC/SC-compliant
Read/write speed up to 424 kbps
Built-in antenna for contactless tag access, with card reading distance of up to 50 mm (depending on tag type)
Supports ISO 14443 Type A and B, FeliCa, and all 4 types of NFC (ISO/IEC 18092) tags
Built-in anti-collision feature (only 1 tag is accessed at any time)
User-controllable bi-color LED
User-controllable buzzer
NFC application development
NFC reader application
Application
e-Healthcare

e-Government

e-Banking and e-Payment

Transportation

Network Security

Access Control

Loyalty Program


sales@ravirajtech.com
Dimensions
98 mm (L) x 65 mm (W) x 12.8 mm (H)
Weight
70 g
Interface
USB Full Speed
Operating Distance
Up to 50 mm (depends on the tag type)
Supply Voltage
Regulated 5V DC
Supply Current
200mA (operating); 50mA (standby); 100mA (normal)
Operating Temperature
0-50 C
Operating Frequency
13.56 MHz
Smart Card Interface Support

ISO14443 Type A & B
Clasic 1k 4K
FeliCa
4 types of NFC (ISO/IEC18092) tags

Compliance/Certifications

PC/SC, CCID, CE, FCC, VCCI, RoHS Compliant, USB Full Speed
Microsoft WHQL: 2000, Server 2003, XP, Vista, Server 2008, Server 2008 R2, 7, 8, Windows server 2012

Operating System Support

Win 98, Win ME, Win 2000, Win XP, Win Vista, Win 7, Win 8, Win Server 2003, Win Server 2008, 2012
Win XP x64, Win Vista x64, Win 7 x64, Win Server 2003 x64, Win Server 2008 x64, Win Server 2008 R2 x64 , Win server 2012
Windows CE 5.0 , 6.0, 7
Mac
Linux
Manufactured and tested in the United States, quality is a top priority Lowest cost HF, 15693, oem module, rfid, radio frequency identification, rfid reader, rfid readers, rfid technology, reader module, rfid reader, rfid reader functionality, aura, Advanced Universal Reader Architecture, rfid as a feature, ,DotNetNuke, DNN, nfc, tag, tag, card, contactless, nfc forum, nfc forum type 1, nfc forum type 2, nfc forum type 3, nfc forum type 4, smart, smart cards, desfire, nfc forum type, near field communication, 1k, 4k, felica, iso 15693, nfcv, nfcf, nfca, 14443, 14443 b, 14443 a, iso 14443, ultralight.
NFC Contactless Smart Card Technologies Provide Highest Security


Combining NFC Contactless Smart Cards Delivers Economic and Security Advantages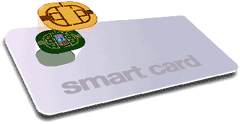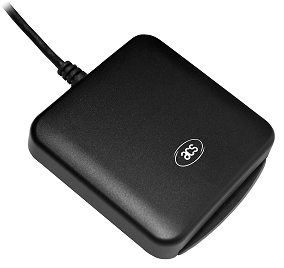 NFC Tags
NFC Smart Posters
NFC Smart Strips
NFC Applications
RFID NFC Tag
Advanced NFC Tag
NFC Tag Suppliers
NFC Tag Manufacturers
NFC Solutions
White papers:

Personal Identification system

NFC Contactless Smart card FAQ's

NFC Time Attendance Systems

NFC Physical Access Control
Buy NFC Tag, RFID NFC Tag, Advanced NFC Tag, NFC Tag Suppliers and NFC Tag Manufacturers NFC Tags in Paper Sticker or Anti Metal formats smart card memory, Ultralight, Ultra nfc application development, nfc reader application, Ultralight, Ultralight C, NFC Type 2, readerware smart card application
Classic, Paper Sticker, Anti metal, NFC Tags, Buy NFC Tags, NFC Tags India, NFC, Near Field Communication, Purchase NFC Tags, NFC Stickers, NFC Online Shop, NFC Store India, Samsung Tectiles, Sony Xperia Smart Tags, NFC Store UAE, NFC Tags India smart cards india,
Card - Mifare Ultralight card (NFC Forum Type 2) - Availability: In Stock Physical type: White PVC card Use environment: Outdoor / Indoor
| | | | |
| --- | --- | --- | --- |
| Hardware only | Part number | M.O.Q | Pricing |
| NFC Card reader writer | NFC Card reader | 100 | INR 3500.00 |
:: Order Information India - International
Order by E-mail

for orders Send e-mail:
sales@ravirajtech.com
with subject: NFC Card reader order
Order by Fax

Orders By FAX

You may place an order by fax 24 hours a day, 7 days a week. Simply print the form below and fax it to us at:+91-020-24475992 Download Fax Order Form

:: Useful Links ::
Wireless Data Terminal Biometric solutions GSM GPRS Modem NFC Fingerprints Time Attendance Wireless Security Biometrics Time Attendance Rapidindex Fingerprints products Fingerprints Standalone Biometrics Access Control Fingerprint Scanners USB News Biometrics Fingerprints Software eOffice Resources RFID Modem/Module Biometrics Access control OEM Fingerprint Gold Campaign Sensors Software Development Kit GSM GPRS Products Axis Network PoE camera Biometrics services Modules Property Management RFID Info Biometric Product Fingerprints Readers Electronics Time Attendance Biometrics Tech Fingerprint ID Products Ayurvedic Fingerprints Access Control Time Recorders Embedded Solution Biometrics Resources Mini ITX BOX Advanced Technologies Solutions Fingerprint technologies Biometric Security Embedded Resource
Home | Services | Products | Solutions | Support | Partners | Careers | Contact Us

/
India, USA (New York, California), UK, Dubai, UAE, Oman, Bahrain, Saudi Arabia, Australia, south Africa, Canada, America, middle east, Europe, Asia, Argentina, Austria, Azerbaijan, Bahamas, Bangladesh, Belgium, Bhutan, Brazil, Brunei, Bulgaria, Burma, Cameroon, Canada, Chile, China, Colombia. Congo, Costa Rica, Croatia, Cuba, Cyprus, Czech Republic, Denmark, East west north south, Ecuador, Egypt, England, c Laos, Malaysia, Maldives, Islands, Mauritius, Mexico, Myanmar, Nepal, The Netherlands, New Zealand, Nigeria, Ireland, Norway, Oman, Pakistan, Philippines, Poland, Portugal, Qatar, Romania, Russia, Saudi Arabia, Scotland, Seychelles, Sierra, Property Singapore, South Africa, Spain, Sri Lanka, Sudan Sweden, Switzerland, Syria, Taiwan, Tanzania, impact components Thailand, Trinidad, Tunisia, Turkey, United Arab investments Emirates, United Kingdom, Britain, United States of America, Vatican, Venezuela, Vietnam, Wales, Zimbabwe ayurvedic Development, USB, Optical, cards, Sensors, Software Biometrics

Ahmedabad, Agra, Allahabad, Amritsar, Aurangabad, Bangalore, Baroda, Bhopal, Bhubaneshwar, Bikaner, Calicut, Chennai (Madras), Chandigarh, Coimbatore, Dehradun, Faridabad, Gandhinagar, Gwalior, Guwahati, Hyderabad, Indore, Jaipur, Jalandhar, Jammu, Kanpur, Kholapur, Kochi (Cochin), Kolkata (Calcutta), Lucknow, Ludhiana, Mumbai (Bombay), Mysore, Nagpur, Nashik, New Delhi, Patna, Pondicherry, Pune, Raipur, Rajkot, Ranchi, Sangli, Sholapur, Shimla, Srinagar, Surat, Thane, Trichi, Thiruvananthapuram (Trivandrum), Udaipur, Vadodara, Varanasi, Vijayawada, Vishakhapatnam, Goa Andhra Pradesh, Assam, Bihar, Goa, Gujarat, Karnataka, Madhya Pradesh, Maharashtra, Orissa, Punjab, Rajasthan, Tamil Nadu, West Bengal, Chandigarh, Delhi Andhra Pradesh, Assam, Bihar, Goa, Gujarat, Karnataka, Biometric Madhya Pradesh, Biometrics Maharashtra, Orissa, Punjab, Fingerprint Rajasthan, Biometric Tamil Nadu, West Bengal, Biometric Chandigarh, Delhi